The three new engines will be unveiled by FPT Industrial, together with SFH, during the 19th Shanghai International Automobile Industry Exhibition at its booth on April 20th with a press conference, whose slogan "Extraordinary FPT technology, keep innovating" fully expresses brand product strength, based on continuous technological development. The key advancements equipping the Cursor GBVI engines are the Ti-V (Titanium – Vanadium), guaranteeing the engine to be unstoppable, and the eVGT (Electronically-controlled Variable Geometry Turbocharger) for Cursor 13, making the GBVI the best choice for heavy-duty truck.
From SCR to HI-eSCR, and from GBIII to GBVI, SFH kept introducing FPT's leading technology to China, rapidly answering to market and user needs, and providing innovative, efficient and reliable powertrain solutions. The Cursor GBVI engine leverage on FPT's latest generation High-efficiency SCR Aftertreatment System (HI-eSCR) for fully compliance with China strict emission regulation.
HI-eSCR technology can achieve extremely high nitrogen oxide conversion efficiency (>95%) and does not require an exhaust gas recirculation (EGR) system. The result is an effective reduction of both nitrogen oxide emissions and fuel consumption, as well as a steady improvement of engine performance and reliability. Not to mention cost reduction. Compared to EGR-based systems, the HI-eSCR system can reduce fuel consumption by up to 3%. In addition, thanks to DPF passive regeneration, the DPF maintenance intervals are longer, as are the oil change intervals (up to 100,000 kilometers), resulting in shorter downtime.
No need for exhaust gas recirculation system and no after injection means reduced overall structural engine complexity and better reliability. Thanks to fewer components, this compact system is simpler to arrange and install, also as a retrofitting solution. Developed along the past 25 years, FPT Industrial's SCR technology has reached the sixth generation, with 8 patents, more than 14 years of on-road application experience, more than 200,000 vehicles in the European market equipped with HI-eSCR technology and more than 1.5 million SCR vehicles in use for all sectors. For medium and heavy-duty engines, this is a proven and highly cost-effective solution.
Two are the new key technologies featuring in the Cursor GBVI series just unveiled in Shanghai. The first is the Ti-V (Titanium – Vanadium) after treatment technology. With this solution, customers can benefit of no forced parking regeneration, no fuel injection and even no forced parking regeneration button on the truck console, mean increased uptime, reduced fuel consumption, and simpler uninterrupted operation. A great progress compared to other products requiring a 40-to-90 minutes parking regeneration every 8,000 kilometers.
In addition, the Ti-V after treatment system features a high sulfur resistance and a higher adaptability to low-quality fuels. Throw in lower operating temperatures and higher reliability is guaranteed. Last but not least, the DPF service interval has been increased to 450,000 kilometers, 50% more than competitors.
The second core technology is eVGT (Electronically-controlled Variable Geometry Turbocharger) technology on Cursor 13 engine. Being the best solution for long-distance and heavy-duty trucks over 16 tons of Gross Vehicle Weight, the Cursor 13 features the new eVGT technology for best-in-class transient response. In other words, the eVGT allows the development of maximum torque up to 2,500 Nm at as low as 950 rpm. So, the vehicle can instantly leverage the full power when starting and accelerating, which doubles the acceleration response of ordinary superchargers. In addition, eVGT can also improve the Cursor engine's in-cylinder braking effect by more than 60%, thus greatly reducing brake pads wear and driver fatigue. Finally, eVGT technology is also a perfect match with AMT automatic transmission. Through automatic collection of operating data, automatic adjustment of boost pressure, and automatic shifting, it creates a more intelligent and convenient driving experience.
Cursor 9
Cursor 9 adopts an upgraded turbocharger, which is suitable for smaller rear axle speed ratio and optimized for high altitude working environments, making it the first choice for construction vehicles.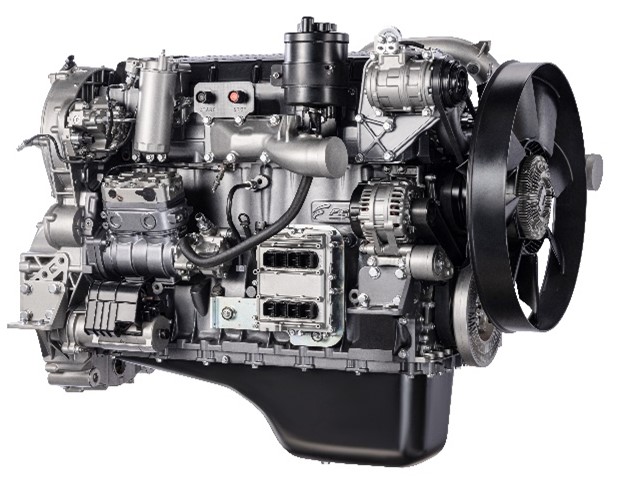 Type: In-line 6-cylinder
Bore x Stroke: 117mm x 135mm
Total Displacement: 8.7L
Valves/Cylinder: 4 Valves
Injection Type: Electronic control high pressure common rail system
Aspiration: Turbocharger with waste-gate
Max. Power: 390HP @2100rpm
Max. Torque: 1600Nm @1100-1500rpm
Emission: GBVI
Size: L 1186mm x W 981mm x H 873mm
Aftertreatment: DOC + DPF + Hi-eSCR System + CUC
Cursor 11
Cursor 11 features two different turbochargers specially designed, one for tipper and one for tractors, achieving customized external characteristic curves. Tractors that focus on low-torque can reach peak values of 2100Nm at just 950rpm, while tippers have no power derating up to 3,000 meters altitude. The best choice for high way transportation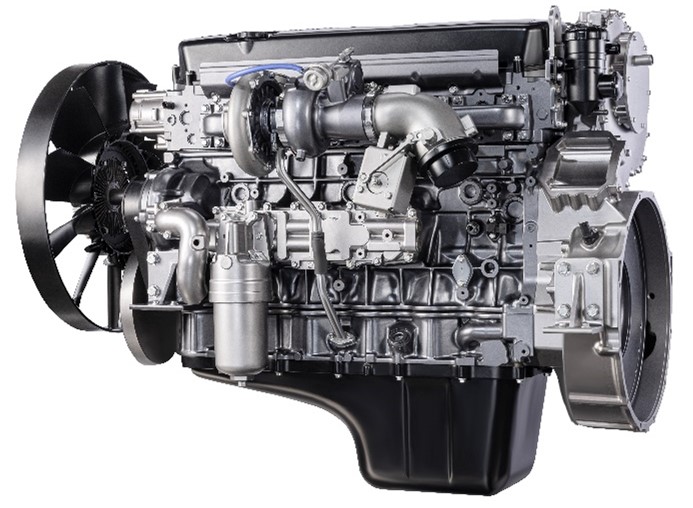 Type: In-line-6-cylinder
Bore x Stroke: 128mm x 144mm
Total Displacement: 11.12L
Valves/Cylinder: 4 Valves
Injection Type: Common Rail System
Aspiration: Turbocharger with waste-gate
Max. Power: 460HP @1900rpm
Max. Torque (Tractor): 2100NM @950-1400rpm
Max. Torque (Tipper): 2100NM @1100-1400rpm
Emission: GBVI
Size: L 1285mm x W 965mm x H 1135mm
Aftertreatment: DOC + DPF + Hi-eSCR System + CUC
Cursor 13
Cursor 13 eVGT's 2500 Nm peak torque has an ultra-wide speed range of 950 rpm-1600 rpm (tipper), which greatly reduces the number of shifts; acceleration response at low speeds is increased by 100%; the braking efficiency is increased by 60%, and it is safer when going downhill and effectively reduces the wear of brake pads. Thanks to the eVGT technologies for Cursor 13, being the first in the market, FPT Industrial offers efficient power.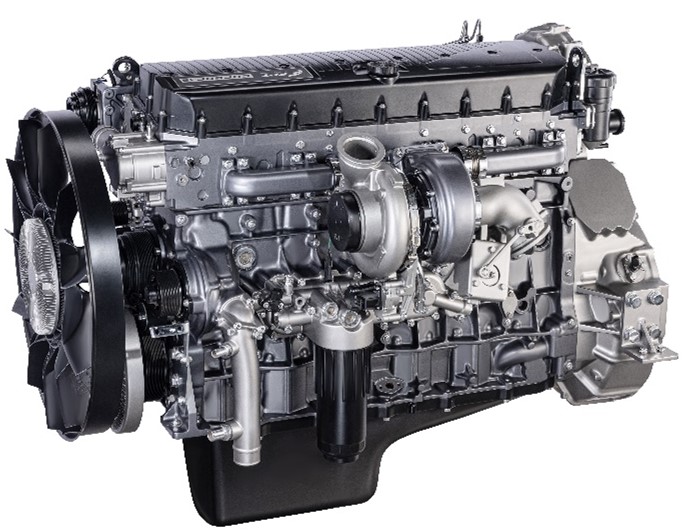 Type: In-line 6-cylinder
Bore x Stroke: 135mm x 150mm
Total Displacement: 12.88L
Valves/Cylinder: 4 Valves
Injection Type: Electronic control high pressure common rail system
Aspiration: electronic Variable Turbocharger
Max. Power: 560HP @1900rpm
Max. Torque 2500Nm @950-1500rpm
Emission: GBVI
Size: L 1505mm x W 1077mm x H 1150mm
Aftertreatment DOC + DPF + Hi-eSCR System + CUC
"As FPT Industrial, we are sure that Chinese end users can take advantages from GBVI many benefits and become the right hand for their business. Among the key features we leverage on, we are proud of no stop in uptime, high efficiency and low fuel consumption, while maintaining its high adaptability to multiple scenarios", states Marco Rossotto, Product Engineering AMEA Countries.