All-electric eActros 300 Tractor drives from Germany to Turkey
Transfer already a test run for the electric tractor
When driving to Turkey, test engineers focused in particular on safety systems, performance and durability of the vehicle. With regard to the electric drive, for example, the functionality of the range forecast, recuperation and flawless connectivity with charging stations abroad were important aspects. Both the varied and demanding topography as well as the different climatic conditions offered good conditions for extensive vehicle testing during operation.
eActros 300 Tractor ready for series production
The vehicle is compatible with all common European semitrailers, taking into account the maximum permitted total tractor/trailer combination length. The electric semitrailer tractor is based on the same technology as the eActros 300/400. Three battery packs, each with an installed battery capacity of 112 kWh, enable a range of up to 220 km on a single battery charge. The eActros 300 Tractor can be charged with up to 160 kW: The three battery packs need a little more than an hour to be charged from 20 to 80 percent at a standard DC fast charging station with a charging current of 400 A. As part of a series of tests, the electric truck already successfully passed the Arlberg Pass in Austria last year. Some sections of the tests were carried out at an altitude of over 1,800 meters above sea level. Series production of the e-truck is scheduled to start in the fall of this year.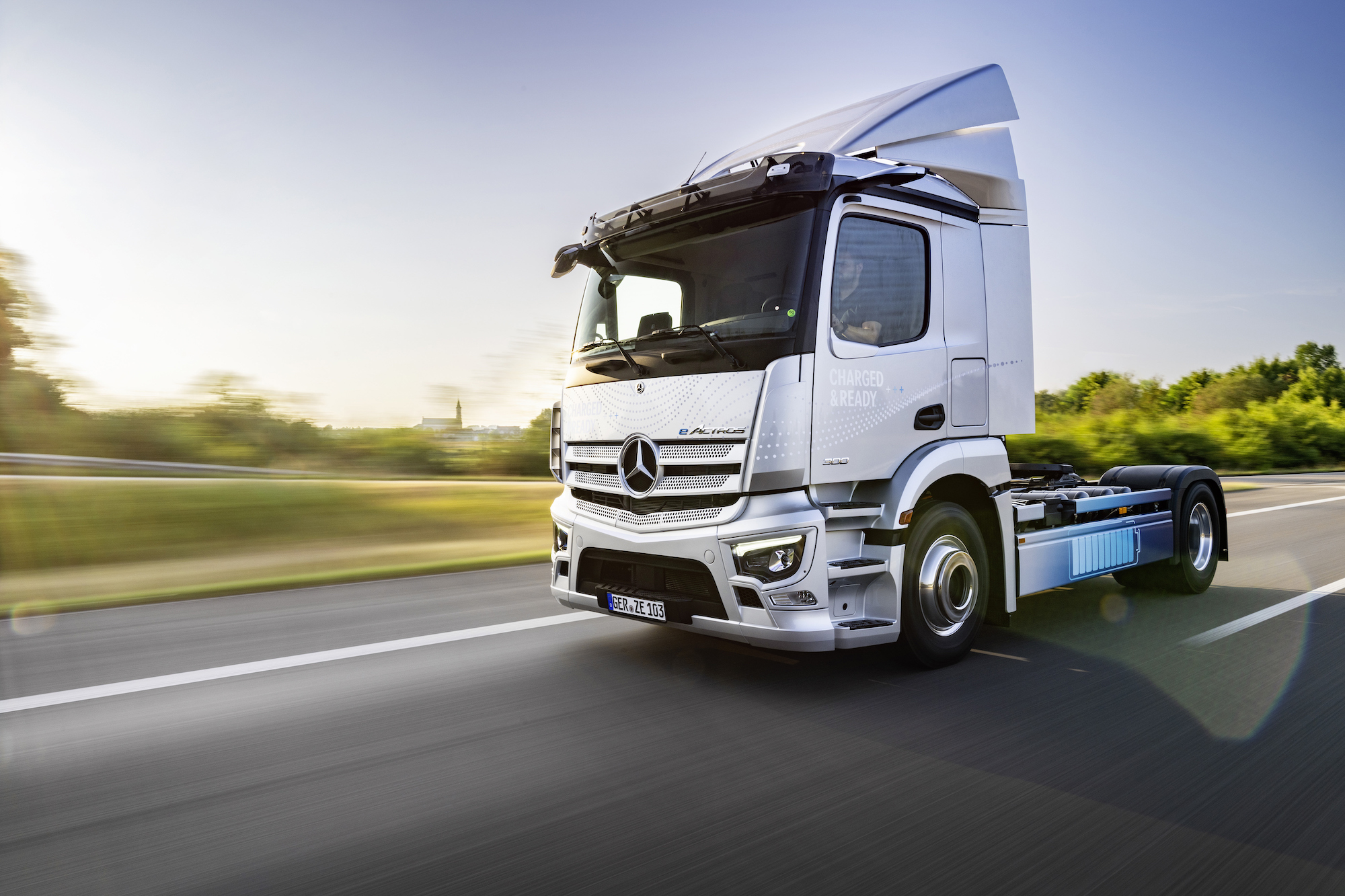 eActros 300/400
The eActros 300 Tractor was accompanied by two eActros 300 (4×2 and 6×2). The battery-electric Mercedes-Benz eActros for heavy-duty distribution haulage has been rolling off the production line at the Wörth plant since 2021. The batteries of the eActros comprise either three (eActros 300) or four battery packs (eActros 400), each of which offers an installed capacity of 112 kWh. With four battery packs, the eActros 400 boasts a range of up to 400 kilometers.The technological centerpiece is the drive unit – an electric rigid axle with two integrated electric motors and a two-speed transmission. Both liquid-cooled motors generate a continuous output of 330 kW as well as a peak performance of 400 kW. In addition, when driving with foresight, electrical energy can be recovered through recuperation. The energy gained when braking is fed back into the batteries of the eActros, and is then once more available for driving.