MAN shows future-proof solutions at the UITP Summit 2023 
Sustainable solutions in public transport are more in demand than ever. The Paris Climate Agreement demands that global warming be limited to well below two degrees. In addition, Europe is to become the first climate-neutral continent by 2050. "The climate crisis is considered one of the biggest and most important challenges facing the global community and poses major challenges for politicians, transport operators and also for us," says Barbaros Oktay, Head of Bus at MAN Truck & Bus, and adds: "We at MAN are convinced that the future belongs to emission-free vehicles. That's why we are consistently moving towards sustainable public transport and are fully committed to electric drive – and our MAN Lion's City E."
In keeping with this, MAN Truck & Bus will be showing the Lion's City 10 E, the latest model in the MAN electric bus family, at this year's UITP Global Public Transport Summit, which is taking place in Barcelona from 4 to 7 June. The midibus version with a length of 10.5 metres, which has been in production at MAN's Polish city bus plant in Starachowice since the beginning of 2023, can be seen in Hall 6, Stand 6A100. Among other things, the compact size of the all-electric city bus will attract attention. This is because it can play to its strengths especially in the increasing use of customer-oriented "on-demand" services and as an amplifier at high-frequency times as well as a manoeuvrable city centre shuttle. After all, the city bus has a similar passenger capacity to many 12-metre solo buses, but requires significantly less traffic space in narrow city centres and depots and is also much more manoeuvrable.
MAN Lion's City E is "Bus of the Year 2023"
The Lion's City 10 E is based on the construction kit of its big brother, the Lion's City 12 E, which 23 European trade journalists voted international "Bus of the Year 2023" last year in Limerick, Ireland. They were particularly enthusiastic about the overall concept of the city bus, which scores points for its range, reliability, comfort and, above all, sustainability. It is precisely this overall concept that makes the MAN eBus, which is also available in an 18-metre version, so popular with operators, drivers and passengers. In the meantime, it is successfully in use all over Europe.
Incidentally, the width, height and overhangs of the Lion's City 10 E have remained unchanged compared to the Lion's City 12 E, as has the concept of the engine tower-free rear, which provides four more seats (maximum 33 seats and 80 passengers in total) than the few competitors in the segment. The body was "shortened" exclusively between the axles, where a window module was removed. The result: the overall length was reduced to 10.5 metres and around 350 kilograms of weight were saved. Despite this significant shortening, there is still room for a wheelchair or pram in the standing platform. A third door is also possible, with which there are still 29 seats available and the passenger flow is once again significantly improved.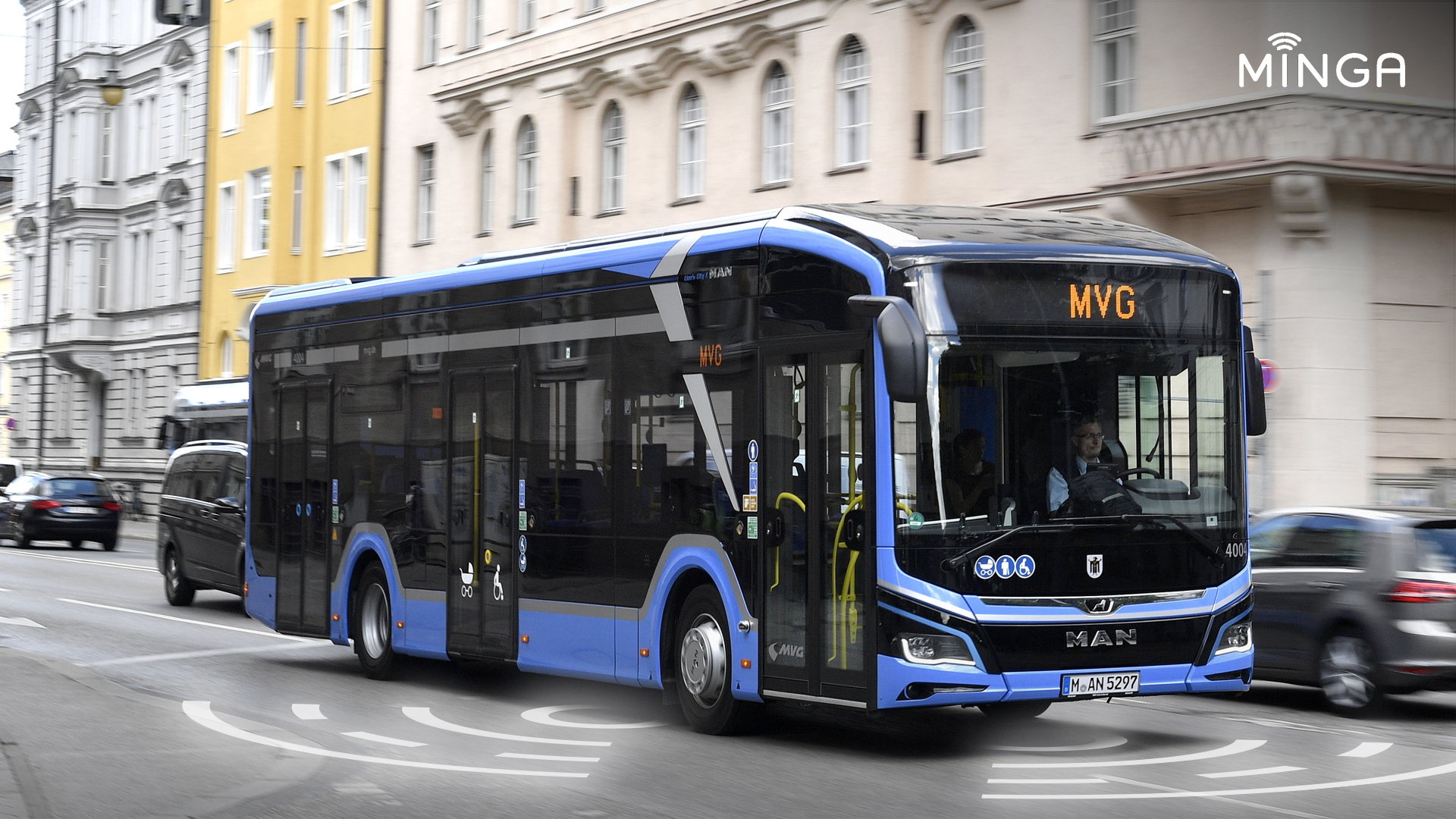 360°consultation and digital services for the switch to eMobility
In addition to future-proof vehicles, MAN Truck & Bus also relies on a highly qualified team of more than 75 eMobility experts throughout Europe and employee training courses with a focus on new technologies as well as all-round consultation for customers switching to eMobility. Since 2018, the MAN Transport Solutions team has been offering customers in many industries support in converting their fleets to zero-emission vehicles. This involves looking at the entire process of the changeover with a 360° analysis. The aim is to ensure the changeover to electromobility is successful and with as little effort as possible for the operators. In total, the team has already successfully completed more than 250 projects in 19 European countries in the truck, bus and van sectors, building up an enormous amount of know-how in the process.