New Alexander Dennis Enviro400EV and Enviro100EV feature next-generation electric driveline and future-proof battery system
Building on the comprehensive expertise gained as the UK market leader for low, ultra-low and zero-emission buses and benefitting from learnings across NFI Group, Alexander Dennis has developed a new zero-emission technology platform as the basis for a new generation of battery-electric and hydrogen-fuel cell buses. In addition, the company will continue to offer the hugely successful electric buses of the BYD ADL partnership, giving cities, transport authorities and bus operators even more options to meet their operational requirements.
Fully designed and built by Alexander Dennis and backed up with AD24 whole-vehicle aftermarket support, the first of the new battery-electric models will be the Enviro400EV double decker and a new-size midibus, the Enviro100EV. Initial orders have been taken and first vehicles are expected in 2023.
Along with a next-generation electric driveline and the new, future-proof Alexander Dennis battery system, the new buses introduce a striking design language that enhances their kerb appeal and makes a bold statement of investment in cleaner transport.
The Enviro400EV is the crowd-shifter, a battery-electric double deck bus to move large numbers of people on busy urban corridors and interurban expresses. With a total capacity of up to 96 passengers and an operational range of up to 260 miles on a single charge, it features an improved lower deck seating layout and a wide range of specification options to tailor the vehicle to local needs.
The Enviro100EV is the big small bus, a midibus that is just 8.5m long and 2.35m wide yet engineered with the same care and attention to durability and detail as a bigger vehicle. Configured from the ground up to meet the exact needs of UK operators, it will have up to 25 seats and accommodate a total of up to 45 passengers, making it at home in town streets as much as in country lanes, where a class-leading range of up to 285 miles on a single charge will let it tackle longer routes.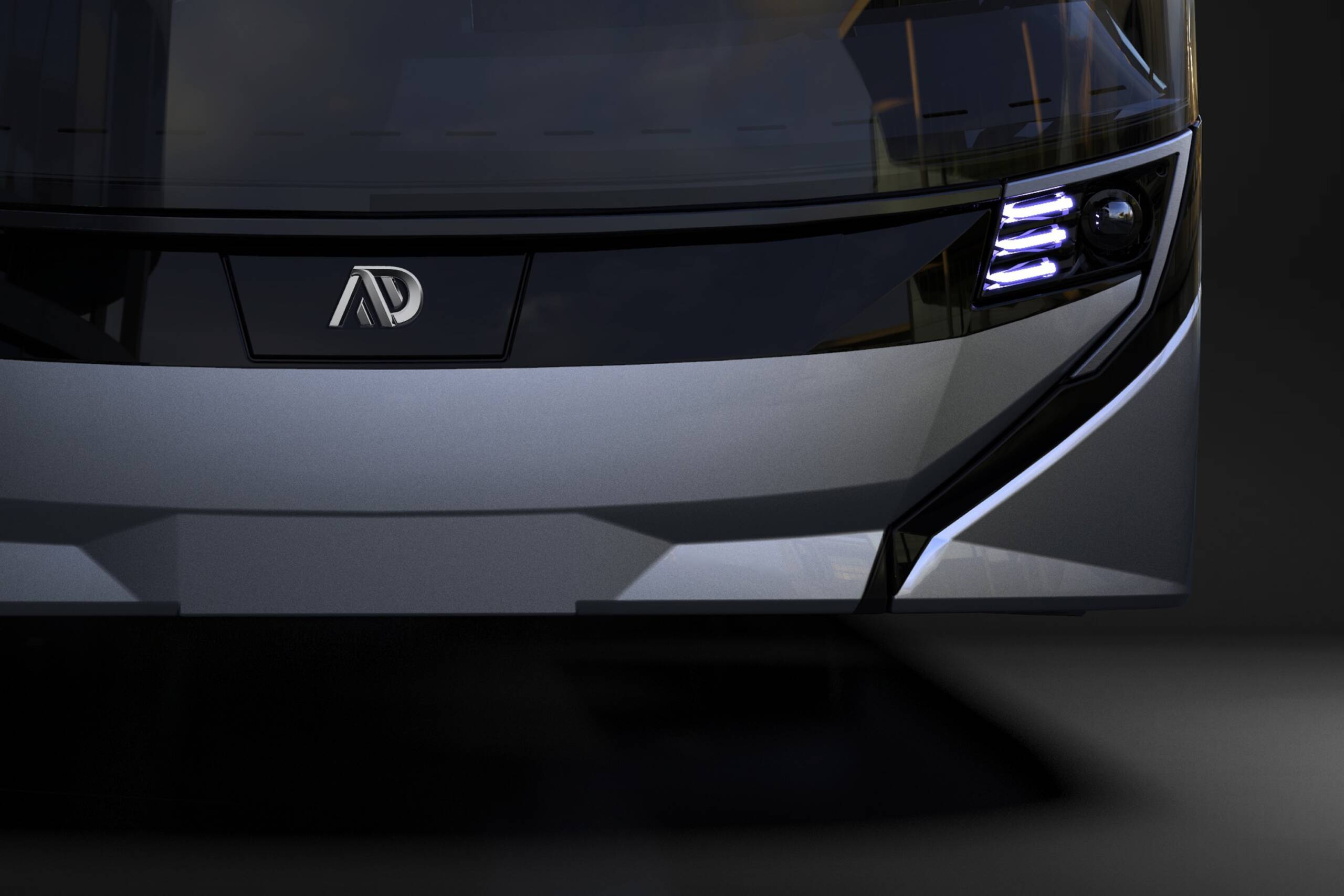 Enviro400EV, Enviro100EV and international models such as the Enviro500EV for Hong Kong share key technologies including a next-generation electric driveline. The Voith Electrical Drive System has been developed specifically for the requirements of buses with an efficient permanent magnet traction motor that delivers substantial torque and power in a compact footprint, freeing up vehicle space for passengers and maximizing ride quality with low unsprung mass. The Enviro400EV uses the heavy-duty variant (VEDS HD), giving the double decker a 410kW peak power output as well as a high maximum running speed and excellent static and dynamic gradeability, while the Enviro100EV midibus uses a medium-duty version (VEDS MD) designed for smaller vehicles.
The new future-proof Alexander Dennis battery system is assembled by Impact Clean Power Technology to an Alexander Dennis proprietary design that standardises packaging and interfaces to the vehicle. Dual sourcing is possible at pack, module and cell level, protecting customers and the vehicle design from adverse impacts of rapid development in battery technology, ensuring continuity of supply throughout vehicle life and allowing operators to benefit from technology advancements at a mid-life refresh without the need for vehicle modifications.
Particular attention has been paid to battery system reliability. Underfloor battery packs are mechanically isolated rather than directly bolted to the chassis, protecting them against external loads from twists and impacts that could cause premature failure, and feature a stainless-steel container and aluminium cooling plate to limit the risk of perforation or damage from road debris and road infrastructure. String-level redundancy ensures that the bus remains able to drive home in case of a single fault, reducing the likelihood of breakdowns.
In its initial application in the Enviro400EV and Enviro100EV, the Alexander Dennis battery system will use heavy-duty, high-density prismatic nickel-manganese-cobalt (NMC) cells that are less susceptible to cold weather performance degradation and have a more gradual state-of-health decline. The Enviro400EV double decker will have 472kWh batteries as standard, with a 354kWh option available to trade range for passenger capacity. On the Enviro100EV midibus, batteries are 236kWh or 354kWh.
The new electric buses have been developed with enhanced active and passive safety. Driver visibility is improved with wrap-around glass and minimal A pillar intrusion, while the more strongly raked windscreen reduces internal reflections and reduces the risk to vulnerable road users, who also benefit from an acoustic vehicle alerting system. An electronic park brake and safety interlocks reduce the risk of accidental roll-away. The vehicle design maximises internal flat floor area to remove trip hazards and give enhanced accessibility for all customers, with room for two wheelchair spaces as well as improved headroom at the rear of the lower deck on the double deck bus.
The new zero-emission buses will have whole-vehicle AD24 aftermarket support, giving access to 24/7 spare parts ordering, 50 fully-trained mobile field service engineers across the UK and customer-bespoke training packages through the Alexander Dennis training academy. The advanced NFI Connect telematics suite will be available to enhance vehicle analytics and further boost uptime and efficiency.
Alexander Dennis President & Managing Director Paul Davies says: "Alexander Dennis is taking the next step in leading the ZEvolution with our next generation of zero-emission buses fully designed and built in-house, while continuing our very successful partnership with BYD which has been leading the market for the last six years and will continue to offer excellent products that meet further operational needs.